Children's Dentistry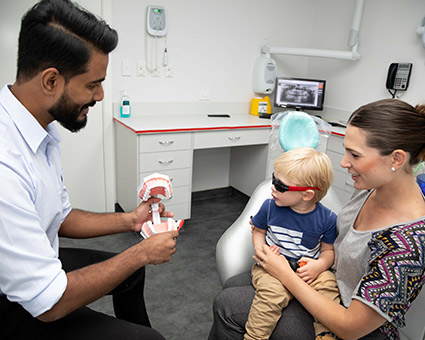 The team at Cannington Dental Centre is well-versed in providing dental services through each stage of your life. Your children's oral health can be protected with regular visits to our clinic. We understand that your child's visits should be kept fun and light-hearted with no pressure involved, ensuring that they won't develop a fear or phobia of visiting the dentist.
Starting Early
We recommend that you bring your child in for their first dental checkup when they're about 2 years old. If you have an appointment scheduled for yourself or the child's sibling, feel free to bring them in with you before that so they can start to get a feel for our atmosphere and team members. That way, when it's time for their first checkup, they'll feel more than ready and excited to finally have a turn.
Medicare Child Dental Benefits
At Cannington Dental Centre, we are passionate about helping children achieve and maintain excellent oral health for a lifetime. That's why we are pleased to accept the Medicare Child Dental Benefits Schedule (CDBS).
To be eligible for the CDBS, your child must:
Be aged 2 to 17 years for at least 1 day of the calendar year
Be eligible for Medicare on the day of service
Get, or be part of a family getting, certain Australian Government payments
You can check if your child is eligible by logging onto your MyGov account, calling Medicare on 132 011 or coming into the practice with your Medicare card. Children eligible for the program can have essential dental service bulk-billed!
When your kids have their first visit with us, the main point is to get them used to going to the dentist. We'll take our time to make it fun and explain what we want to do. We avoid carrying out any treatment on the first visit unless you're coming to see us because of emergency or a particular issue that has occurred. We'll ask them to sit in the dental chair. If they're unsure, they can sit on your lap. We'll take the time to show them our water and air devices and other instruments we use, and how we examine their teeth with these instruments.
If they are feeling okay so far, we'll do a form of cleaning after the examination. The cleaning can be done with a toothbrush and toothpaste if they're a little younger. If your child is comfortable with it, we'll use the same ultrasonic cleaner that we use on adults.
If we identify any potential problems that require further treatment, we'll be sure to discuss it with you so that you can decide what you would like to do.
When it comes to your child's dental care, they may require more than a check and clean on occasion. Dental emergencies may occur, and common problems such as decay can crop up. If so, we have restorative measures such as dental fillings or crowns that can repair your child's teeth.
The best way to make sure dental issues don't happen for your kids is to take preventative measures. That's why we recommend biyearly checkup and cleans for kids. At their appointments, we may recommend services such as fissure sealants or fluoride treatment that can prevent other oral health problems from occurring.
Frequently Asked Questions
What if my child feels anxious about visiting the dentist?
We realise how important it is that your child's first dental experience be a pleasant one. Every one of our staff members is aware that we need to have a positive, warm, inviting and friendly atmosphere. We are gentle, caring and will take time to explain things when your child is in the dental chair.
Are you experienced in children's dentistry?
Yes! We have a great deal of experience in treating children. What's more important: we enjoy it! Our dentists and oral health therapist are both skilled in children's dentistry services.
What if my child needs more than a checkup and clean?
If we determine your child requires further treatment during their checkup, we'll discuss it with you. No treatment will ever be embarked upon before letting you know what we find and what we recommend be done about it.
I'm concerned that my child will need orthodontics. Can you tell if that's the case?
Part of the reason it's so critical to take your child to the dentist early is to monitor the growth and development of their teeth. If we notice any potential problems, including the future need for orthodontics, we'll let you know.
Saturday Visits
We have convenient Saturday hours that work well for busy families. Contact us now to schedule your appointment for children's dental care Cannington!
CONTACT US »

Children's Dentistry Westfield Carousel, Cannington, Beckenham, East Cannington WA | (08) 9458 8646