Veneers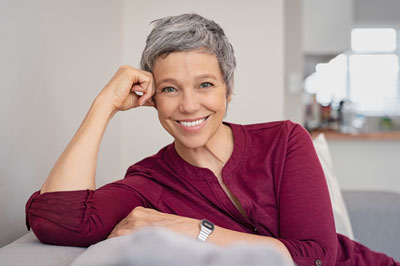 At Cannington Dental Centre, you'll have access to a full range of dental services. If you're interested in making cosmetic changes to your smile, we'll be happy to share the possible solutions we offer with you. One such is dental veneers, which can mask oral health concerns such as
Misshapen teeth
Different-sized teeth
Peg teeth
Chipped teeth
Stained or discoloured teeth
Misaligned teeth
Rather than wrapping an entire tooth like a crown does, a veneer is applied only to the front of the tooth. You can have veneers done on your upper or lower teeth, though they're commonly applied to upper teeth that tend to be more visible when you smile or speak.
What to Expect When Getting Veneers
The first step is to have a consultation at our clinic. We can create a mockup of your veneers by taking impressions of your teeth, then showing you what the veneers will look like. You can even try them on in your mouth to visualise the final result. You'll have a full description of what the treatment is, and all risks, benefits and costs associate with it.
Once you decide to move forward, we will prepare your teeth to receive the veneers and take impressions of your teeth. You'll have a temporary set of veneers while yours are fabricated at our laboratory.
At your next appointment, you'll try on your veneers. You can make any changes to the colour, shape or alignment as you wish. Only when you're completely happy with how they appear will we cement your veneers in place.
Frequently Asked Questions
Is there anything I should consider before I get veneers?
Note that veneers cannot be easily removed if you change your mind. That's why we make sure you understand the process, costs and benefits of veneers, as well as any possible alternative choices that may be appropriate for your case.
No. Since veneers are not natural teeth, they cannot be whitened. It can be a good idea to whiten your teeth before you get your veneers. Then, your veneers can be colour-matched to your newly whitened teeth.
I want to have straighter teeth. Are veneers right for me?
If you're having veneers to correct the alignment of your teeth, speak to your dentist about possible orthodontic options, too. We'll determine which is the best decision to get the results you want.
Can I get veneers if I grind my teeth?
No. If you grind your teeth, you will chip your veneers. To avoid any damage, we suggest that you seek out a solution to your teeth grinding before looking into getting veneers. Then, you can get your veneers feeling confident that you've made a good investment in your oral health and self-confidence.
I have a damaged tooth. Is a veneer appropriate for me?
If your tooth is heavily broken down, seriously discoloured or has been treated with other options previously, a veneer may not be successfully attached to the tooth. In such a case, a dental crown may be the ideal solution.
Love Your Smile Again
Make the changes that allow you to show off the smile of your dreams. Contact our team now to schedule your consultation for veneers Cannington! We have convenient Saturday appointment times available.
CONTACT US »

Veneers Westfield Carousel, Cannington, Beckenham, East Cannington WA | (08) 9458 8646