Dentures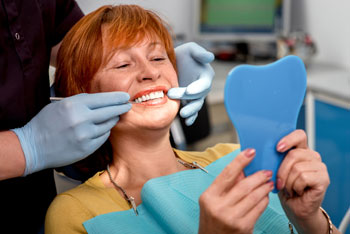 You deserve to have teeth that look aesthetically pleasing, function as they should and let you enjoy the foods you love. If you're missing teeth, you've likely thought about whether you want to replace them. At Cannington Dental Centre, we provide a range of tooth replacement options to help restore your smile.
Dentures are a fantastic option that can be tailored to your needs. They mimic the look of natural teeth, so nobody will ever suspect that they aren't yours. Dentures are available in metal, acrylic or a mix of metal and acrylic materials. The materials most suitable for you will depend on your needs and budget.
Replace One Tooth, Multiple Teeth or All Teeth
You can replace one missing tooth, several teeth or all the teeth in your mouth with a customised denture. If you're missing one tooth, a denture will look great while being long-lasting. If you have no teeth, dentures can be created that replace all of them, restoring your appearance and the function of your mouth.
Wearing a denture can feel a little strange at first. With perseverance, nearly anyone can get used to wearing one. You'll need to practice eating and speaking with them to become accustomed to your denture and how it functions. We expect that you'll have to return for some adjustments. It's normal that your denture will feel a little uncomfortable at first. If it persists, give us a call and we will book you in for an appointment. At that visit, we'll make any needed adjustments to your denture.
Note that the fewer teeth you're replacing with a denture, the easier it typically is to get used to it. If you're just replacing a single tooth, you'll likely be able to tolerate your denture straightaway.
If you've lost a tooth and want to get a dental implant or bridge, these can both take time to have made. You don't want to have to go without teeth in the meantime. Dentures can be made for you within a week so that you can chew and speak until your permanent treatment can be completed.
Frequently Asked Questions
Do I need a full or partial denture?
A full denture is for people who need to replace all teeth in their mouth. A partial denture is the right choice for those who still have some vital, healthy teeth left in their mouth.
Are there alternative options to getting a denture?
Yes. Other tooth replacement options we offer include bridges and dental implants, which can support your dentures if you'd like them to feel extremely secure.
Are dentures the right tooth replacement option for me?
If you're looking for tooth replacement options but aren't sure which is right for you, we can help you. Come in for a consultation, speak with one of our dentists and talk about what we have available to you. We'll give you our best recommendations depending on your needs and preferences.
Yes. We're happy to accept health funds and have a HICAPS machine on-site so you can claim your rebate straightaway.
Convenient Appointment Times
We have late hours on Tuesdays and are open Saturdays, making it easy for you to get in for your visit. Contact our team now to schedule your consultation for dentures Cannington!
CONTACT US »

Dentures Westfield Carousel, Cannington, Beckenham, East Cannington WA | (08) 9458 8646