Restorative Dentistry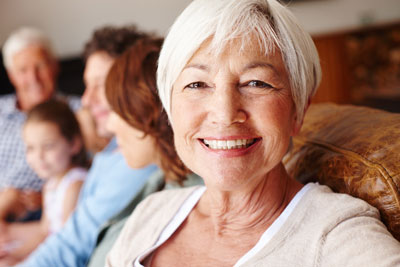 Damage to your teeth can have a range of effects. It can compromise your oral health, decrease your self-esteem and make you miss out on enjoying your favourite foods. It may even affect your ability to speak. Rather than hiding your smile, you can love showing it off again thanks to restorative dentistry treatments.
Crowns and Bridges
A dental crown looks like a cap that is placed on your tooth. In doing so, we can address a tooth with a compromised structure. A tooth may have gotten severely decayed or damaged by trauma. In such cases, a crown can be the ideal way to restore your smile.
A bridge is placed in your mouth to replace missing teeth. As its name suggests, it bridges the gap by anchoring to neighbouring teeth, then suspending a fake tooth in the middle.
Dental Implants
Dental implants are the most advanced way to replace a missing tooth or several missing teeth. People love that they look just like natural teeth and are easy to care for. A titanium screw is placed in the jawbone. After the bone grows around the implant, your body has accepted it to act as a tooth root. We can then place a crown, bridge or denture on top of the implant to complete your procedure.
There are certain cases that require more complex dental implant work. If you require additional care, our team will be happy to coordinate the appointment with the correct specialist for you, such as a periodontist or prosthodontist. Some of these situations include changing the position of sinuses or having some extra bone material placed in the jaw
Dentures
Dentures have been around a long time for good reason. Thanks to modern dentistry, today's dentures are comfortable, fit snugly and are easy to maintain. You can choose full or partial dentures depending on how many teeth you're missing. They're available in different materials to suit your preferences and budget.
Dentures are a fantastic option that can be tailored to your needs. They mimic the look of natural teeth, so nobody will ever suspect that they aren't yours. Dentures are available in metal, acrylic or a mix of metal and acrylic materials. The materials most suitable for you will depend on your needs and budget.
Fillings
Tooth decay is one of the most common dental problems. It can be experienced at any age or stage of life. When bacteria interact with the sugars found in food, they create an acid that wears away at your teeth. Decay can be addressed with a filling. We can fill your tooth with a white material so that it blends in perfectly with the rest of your smile. We emphasise the importance of gentle dentistry, making sure you're comfortable at all times. Anaesthetic is applied before beginning the process of giving you a filling, so you will experience minimal discomfort.
Having great oral health is within everyone's reach. The key ingredients to avoiding the need for a filling are brushing, flossing and regular checkups. You should brush twice a day and floss daily, sticking to strict home hygiene routines. Your regular checkups should be undertaken every six months.
Root Canal Treatment
A possible option in saving a tooth from extraction is to have a root canal. During this procedure, we'll clean out the area of infection from deep inside of your tooth. Once the area is sealed off, the tooth can be capped with a dental crown to make it strong and functional again.
Open Six Days a Week
We're here for you Monday through Saturday. Call our practice now to schedule your first appointment for restorative dentistry Cannington!
CONTACT US »

Restorative Dentistry Westfield Carousel, Cannington, Beckenham, East Cannington WA | (08) 9458 8646