Emergency Dental Care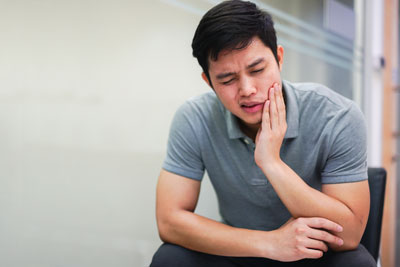 A dental emergency can impact your oral health, the function of your teeth or the appearance of your smile. At Cannington Dental Centre, our team are experienced in providing emergency care to restore your good oral health. Some types of common dental emergencies include
Broken teeth
Lesions or ulcers under a denture
Pain or sensitivity in the teeth
Swelling in the gums
Trauma to the mouth
We'll See You Promptly
We strive to provide treatment straightaway for emergencies. We'll make every effort to get you in on the same day. It's possible that you may want to see a specific dentist who is booked up for that day. you'll have an option to see another one of our dentists. If there is no available appointments, we have a close relationship with another dental centre here, and we'll be happy to tell them about your situation and arrange for an appointment so that you don't have to delay receiving treatment.
Options to Help You Relax
If you're feeling stressed or anxious, we want to make sure you get the care you need to restore your oral health. We can always provide the emergency care that you need to relieve your particular situation, then have you return for the additional treatment you need. For example, we can give you a temporary filling and have you come back for a follow-up to get a permanent filling. Or you may need painkillers or antibiotics right away, then we can provide you with them and have you book in for an appointment in the future.
When you return, we can provide you with oral sedation, twilight sedation or have your treatment performed in hospital depending on your needs and preferences. For oral sedation, we'll first need to coordinate with your GP. Twilight sedation is also referred to as IV sedation, which is done in the dental chair. General anaesthetic is arranged in conjunction with the hospital, where our licensed oral surgeon will perform your treatment.
Frequently Asked Questions
I think I may have a dental emergency, but I'm not sure. What should I do?
Many people put off getting dental care because they're not certain whether their concern needs to be taken care of right away. The best advice we can give you is to call if you're uncertain. We'll ask about what has occurred, how you're feeling and let you know what we think the proper course of action is for you.
Yes. You can use your health fund cover for your dental care at our clinic.
I'm concerned about pain during my dental treatment. Can you help me?
Yes. One of our main areas of focus is gentle dentistry. Your comfort level is our priority at all times during your care with us. We'll discuss our sedation options with you to decide what's appropriate for your situation.
Do you see children for emergencies?
Yes. We see children at our clinic, making our team able to take care of your entire family's needs. Emergencies can happen to all ages. If your child has a dental emergency, you can take them to our practice and make sure they get the right treatment.
Open Six Days a Week
We have convenient Saturday hours available. Contact us now to get the attention you need with emergency dental care Cannington!
CONTACT US »

Emergency Dentistry Westfield Carousel, Cannington, Beckenham, East Cannington WA | (08) 9458 8646