Crowns and Bridges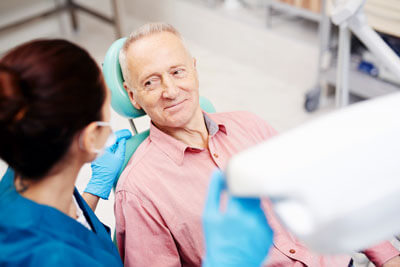 At Cannington Dental Centre, we want every member of our community to have a smile they're proud to show off. If your teeth require a little extra attention, we're here for you. Our team is experienced in providing a broad array of solutions for all ages. If your teeth have been damaged, you may be interested in how a crown or bridge can improve your smile.
A dental crown is like a cap that goes over the tooth, making it stronger. It can be used for aesthetic reasons or to address a tooth that has been cracked or heavily restored after the removal of decay. A dental bridge, much like the name sounds, is used to bridge a gap caused by a missing tooth or teeth.
There are different options when it comes to the materials that your crown can be made of. Porcelain, cold or a metal base with porcelain over the top are all available. The one that's most appropriate for you will be determined after our examination. Your dentist will discuss their recommendations with you so that you have a bridge that looks great and lasts for years.
You'll book in for two separate appointments to get a crown or bridge. At the first appointment, we'll prepare your tooth to receive the crown or bridge, then take moulds to send to our laboratory. You'll receive a temporary crown or bridge to wear until it comes back.
About two weeks later, you'll return for a follow-up and have your crown or bridge placed. We'll make any adjustments as needed so it's comfortable for you to wear.
If you have a missing tooth, a dental bridge is a simple solution. A bridge is made up from a row of fake teeth. The ones on the end are crowns that can be fitted easily over the teeth that neighbour the gap. A fake tooth is then suspended into the open space, filling it up and giving you a natural, beautiful smile.
Frequently Asked Questions
Will my crown look different from my regular teeth?
If your crown is toward the front of your mouth and can be seen when you talk or smile, it might be best to opt for a porcelain material. Your crown can be indistinguishable in appearance from the teeth on either side.
Once your crown has been fitted, you can treat it like a normal tooth. You'll be able to chew on it and bite your teeth together with ease. Be sure to brush and floss your crown just like you would the rest of your teeth.
Does a bridge require special care?
Though easily maintained, you must clean carefully under your bridge. You can get specialised instruments that make it simple, which we'll talk to you about after your appointment. Other than cleaning under the bridge, you can treat your bridge like normal teeth, being sure to brush and floss on and around it.
Can I change the colour of my crown or bridge?
Just like any restoration, crowns and bridges cannot be bleached. Therefore, if you're thinking about lightening the shade of your teeth, we recommend that you complete teeth whitening, then have your crown or bridge designed to match your newly brightened smile.
Call Today
Contact our team now to set up your consultation for crowns and bridges Cannington! You'll find plenty of on-site parking to make it easy for you to reach our clinic.
CONTACT US »

Crowns and Bridges Westfield Carousel, Cannington, Beckenham, East Cannington WA | (08) 9458 8646