Gum Disease Treatment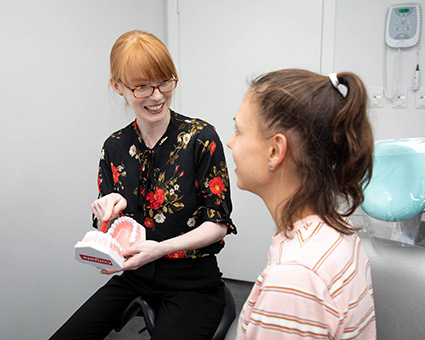 The team at Cannington Dental Centre provide a broad range of services to suit your needs. At every stage of life, we can help you meet the unique challenges presented to your oral health. Gum disease can happen to anyone. If you have some of the symptoms of gum disease, you may be in the early stages where it can be reversed. If you already have gum disease, we can help you manage it.
The Cause of Gum Disease
Typically, gum disease is the result of bacteria in the gums. An inflammatory response is caused in the tissue, resulting in gum disease. Often, we see that it's due to heavy bacterial loads, which is associated with a buildup of plaque or calculus on the teeth. There are also other types of risk factors, such as genetics. If you have a family history of gum disease, you may be more susceptible to having it yourself.
Checking For Gum Disease At Your Regular Appointments
At your initial examination, we always perform a screening test for gum disease. If we find any signs of it, we'll discuss it with you. Our dentist or oral hygienist can perform the form of deep cleaning you need. A cleaning for gum disease requires specialised tools and techniques to get into the pockets around your teeth. It can be completed in one session or over multiple sessions depending on your preference. If needed, we can use a local anaesthetic to make sure you're comfortable during the procedure.
The Signs You Might Have Gum Disease
Before gum disease sets in, you'll notice symptoms of gingivitis, which is the initial stage that leads to gum disease. You'll notice things such as
Red gums
Bleeding gums
Swelling in the gums
Teeth that look brown or yellow
Bad taste in the mouth
Bad breath
Loose teeth
The sooner you get on top of it, the better chance you have of being able to recover your oral health. Since gum disease is a chronic condition, once it sets in, you can't cure it. What you can do, however, is stop its progression. Be sure to get attention immediately once you notice a problem with your gums.
Frequently Asked Questions
Will I need to come in more often than every six months for cleanings?
Often, yes. If you have gum disease, we'll likely see you about every 3-4 months for a maintenance cleaning. Please note, however, that you won't need an examination at every cleaning. We'll do so about every other appointment.
If I think I'm developing gum disease, what should I do?
If you suspect that gum disease may be setting in, get in for an appointment straightaway. We'll check your gum health and let you know what you can do. If caught early, you have the best chance at managing or even reversing gum disease.
Can I manage gum disease on my own?
No. You can't manage gum disease by brushing and flossing carefully at home. You require professional-grade deep cleanings performed by a qualified hygienist or dentist. Otherwise, your gum disease will continue to worsen.
Get Started Today
Do you have questions about treatment for gum disease Cannington or any of our other services? Our team is here for you. Contact us today! You can use your health fund cover for your care at our clinic.
CONTACT US »

Gum Disease Westfield Carousel, Cannington, Beckenham, East Cannington WA | (08) 9458 8646