Teeth Whitening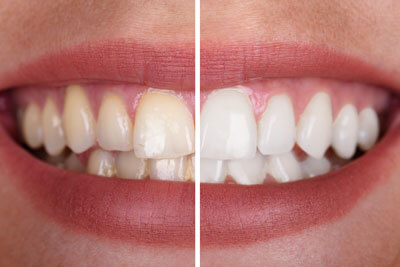 As the years go by, you might begin to notice that your teeth aren't quite as bright as they used to be. It's normal that with the passage of time, your teeth can begin to take on a yellowish hue. Rather than being less-than-thrilled with your smile's appearance, you can have it whitened to restore the brightness to your teeth.
The team at Cannington Dental Centre provide teeth whitening services so that you can love the way your smile looks and feel proud to show it off.
In-Chair or Take-Home Options Available
You can choose from in-chair or take-home teeth whitening. We offer products from Pola, which give superior results. The in-chair results are quicker, being completed in just a single session. If you'd prefer to do your whitening at home, you'll need about 10-20 applications to reach the desired results. You'll receive full instructions from your dentist if you choose to get a take-home kit.
If you aren't sure which is best for you, your dentist will be happy to discuss it with you. You'll go over the pros, cons and costs of each option so that you can decide how you'd like to proceed.
Most people love the results they get with teeth whitening. The more yellowed your teeth are to begin with, the most drastic of a change you'll notice as your teeth are lightened. Even if you don't have severe discolouration, you'll still notice a difference in your teeth after having them whitened. The individual results of whitening will vary. Be sure you speak to your dentist about the resalistic outcomes you can reach for your particular situation.
Yellowing of the teeth is a natural part of the ageing process. There are, however, plenty of factors that can reduce the discolouration of your teeth. Be sure to keep up with good brushing, flossing and having regular checkups with us every six months.
There are food and drink choices that contribute to yellowing, too. Tea, coffee, red wine, green teas and curries will all cause discolouration that will undermine your whitening results.
Frequently Asked Questions
Is there any discomfort involved in having your teeth whitened?
There can be a sensation like nerve pain while your teeth are being whitened. Your dentist will have ways to minimise your discomfort, such as taking an over-the-counter medication.
Will my teeth be sensitive after completing my whitening procedure?
You may feel some sensitivity in the day immediately following your teeth being whitened. You can address it by using a toothpaste made for sensitive teeth.
Will it whiten my restorations?
Crowns, dentures, bridges and fillings cannot be lightened during teeth whitening, since they are not made of natural tooth material. If you know that you're getting a restoration in the future, it may be best to embark on your teeth whitening procedure now. That way, your restoration can be matched to the new shade of your teeth.
Can I redo whitening at regular intervals?
Yes. You can complete another teeth whitening procedure once you notice that your results are fading. If you get a take-home kit, we'll supply you with extra whitening gel since you'll already have the trays to wear for your whitening.
Call Now
Would you like to show off a brighter smile? Contact Cannington Dental Centre today to book your consultation for teeth whitening Cannington!
CONTACT US »

Teeth Whitening Westfield Carousel, Cannington, Beckenham, East Cannington WA | (08) 9458 8646